---
About F & A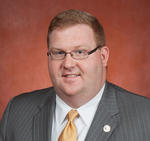 Under the direction of Vice President Kyle Clark, the division strives to provide the highest quality support services to the University.
Strategic Vision
The purpose of the strategic planning project, which began in Spring 2001, was to chart the course for Finance and Administration (F&A) over a five-year period. In order to chart this course, however, it was necessary for Divisional staff from all levels to gain a clear perspective of the forces driving demand for F&A services now and in the future. In turn, this perspective makes it possible to formulate goals, plans, and activities that will bring F&A closer to its mission, and thus enhance its value and contributions to the University.
Take the time to view the entire Strategic Plan and see what is in store for Florida State University in the next five years.
Archived News Articles
For past articles, please click the links below
Florida State / VPFA
Finance and Administration
FSUCard Center Undergoes Renovations
The FSUCard Center has undergone major reconstruction to make accessing FSU services more convenient for students, faculty, and staff. This complete renovation includes a custom designed service counter, a new entrance ramp through the FSU Bookstore, and the relocation of several services to the heart of campus.
Now a one stop shop, the FSUCard center includes Seminole Dining and Transportation And Parking Services. These services were spread across campus, but now, the campus community can access many services under one roof.
Hiedi Batista, a Transportation & Parking Services employee, saw an immediate improvement in student presence after relocating the department. "There's more action! More students come here because it's closer to classes", said Batista.
Employees are excited to see how the renovations will change student experience, especially during New Student Orientation. In the past, hundreds of students would line up outside each summer morning and wait, in any weather, to be issued an FSUCard. With the new entrance to The FSUCard center through the FSU Bookstore, students and employees are no longer subjected to the weather while they wait.
"It's a better welcome to Florida State" said Lucy Coomer, FSUCard Center employee. Coomer finds the new layout more open, inviting, and functional; "Compared to my own orientation, its more convenient- new students can get everything they need all at one place. Its more efficient this way and we are more prepared to help students."
For any FSUCard, Parking, Dining or Cashier needs, visit the new and improved FSUCard Center. Open Monday – Friday, 8AM to 5PM.