---
About F & A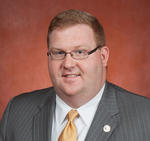 Under the direction of Vice President Kyle Clark, the division strives to provide the highest quality support services to the University.
Strategic Vision
The purpose of the strategic planning project, which began in Spring 2001, was to chart the course for Finance and Administration (F&A) over a five-year period. In order to chart this course, however, it was necessary for Divisional staff from all levels to gain a clear perspective of the forces driving demand for F&A services now and in the future. In turn, this perspective makes it possible to formulate goals, plans, and activities that will bring F&A closer to its mission, and thus enhance its value and contributions to the University.
Take the time to view the entire Strategic Plan and see what is in store for Florida State University in the next five years.
Florida State / VPFA
Finance and Administration
New Director, New name for Purchasing Services
By: Jeffery Seay
The Division of Finance and Administration has named Ian Robbins director of Procurement Services.
As his first order of business, Robbins changed the name of the office from Purchasing Services to more accurately reflect its mission.
In his position as director, Robbins is overseeing the procurement of all goods and services for the university, as well as strategic sourcing and the Supplier Diversity Program. In addition, he is responsible for developing and implementing procurement strategies and policies designed to streamline processes, reduce cost and improve service.
"We're excited to have Ian Robbins as part of the team and to tap into his knowledge and experience," said Eric Algoe, associate vice president for Finance and Administration. "He brings a national reputation as one of the top leaders in the procurement of goods and services."
Before coming to Florida State, Robbins served as the director of Procurement Services at the University of Montana, where he unified and transformed its procure-to-pay organization from reactionary and tactical to having a proactive and strategic focus with a positive customer experience. Through his development of strategy, vision and the leveraging of industry-leading practices, Robbins realized nearly $4 million in savings for the University of Montana in two years.
Prior to his experience at the University of Montana, Robbins worked at Smith & Nephew Inc., a leading medical device manufacturer. There he was responsible for more than $140 million in spending as a category manager of Global Procurement.
Robbins, who served for more than 14 years as an aviation officer in the Army in a variety of leadership roles, holds a degree in computer science from the U.S. Military Academy at West Point
---
Finance and Administration 2014 Service Awards
Florida State University's F & A department, which represents over 1,300 employees, held their annual employee recognition day on June 6, 2014. While it was a great day of fun and fellowship, it was also a day to recognize those employees who go above and beyond the call of duty in their commitment to FSU. The winners of the 2014 Service Awards are:
Service With a Smile--Recognizes an employee who consistently exhibits a friendly and positive image for the division.
Winners:
Jason McVey
Amy Fox
Siobhan Brantley
Extra Mile--Recognizes an employee who performs in an extraordinary manner and consistently goes above and beyond the call of duty to accommodate the needs of the department or division.
Winners:
Sean Mitchell
Amber Wagner
Cecil Williams
S.T.A.R.(Saving Time And Resources)--Recognizes an employee who seeks innovative ways to more efficiently meet the needs of the University while reducing the amount of time and/or resources needed to accomplish the goal.
Winners:
Amanda LaForge
Andrew Kapec
Clayton Aguilar
Unsung Hero--Recognizes an employee who exhibits superior work performance, while exemplifying a positive and cooperative attitude on a day to day "behind the scenes" basis without being spotlighted.
Winners:
Keith Tolbert
Jason Harris
Gail Friedrich
Rookie of the Year--Recognizes an employee who is in a new position or is new to the Division and performed in an extraordinary manner or made an outstanding contribution to a department
Winners:
Chance Brown
Amanda O'Connell
Missy Bolen
The Collaborators--Recognizes two or more employees in the division involved in a program or project that has a positive impact on the University and/or assists the University in achieving its mission. This year was a real team effort with many employees joining together to make a difference:
| | |
| --- | --- |
| Visual Arts UBA | Solid Waste and Recycling |
| Kathy Bailey | Willie Wiggins |
| Rob Berg | Gene Brown |
| Heather Forlong | Tony Collins |
| Sheri Patton | Ricky Cromartie |
| Jasmine Johnson | Trey Gowdy |
| Anna Singleton | Austin Hester |
| Elizabeth Major | Amaziah Jackson |
| Cassandra Rayne | Robert Jackson (Toot) |
| Deb Alexander | Jeffery King |
| Rosie Zindler | Elijah Knight |
| Sarah Miller | Danny Luck |
| Hilary Passo | Johnny Miller |
| Lauren Snyder | Cornell Morgan |
| | Lawrence Pijeaux |
| | Lawrence Robinson |
| | Eric Swatts |
| | Randy Wright |