---
Archived News Articles
For past articles, please click the links below
About F & A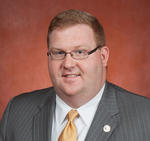 Under the direction of Vice President Kyle Clark, the division strives to provide the highest quality support services to the University.
Strategic Vision
The purpose of the strategic planning project, which began in Spring 2001, was to chart the course for Finance and Administration (F&A) over a five-year period. In order to chart this course, however, it was necessary for Divisional staff from all levels to gain a clear perspective of the forces driving demand for F&A services now and in the future. In turn, this perspective makes it possible to formulate goals, plans, and activities that will bring F&A closer to its mission, and thus enhance its value and contributions to the University.
Take the time to view the entire Strategic Plan and see what is in store for Florida State University in the next five years.
Florida State / VPFA
Finance and Administration
New Director, New name for Purchasing Services
By: Jeffery Seay
The Division of Finance and Administration has named Ian Robbins director of Procurement Services.
As his first order of business, Robbins changed the name of the office from Purchasing Services to more accurately reflect its mission.
In his position as director, Robbins is overseeing the procurement of all goods and services for the university, as well as strategic sourcing and the Supplier Diversity Program. In addition, he is responsible for developing and implementing procurement strategies and policies designed to streamline processes, reduce cost and improve service.
"We're excited to have Ian Robbins as part of the team and to tap into his knowledge and experience," said Eric Algoe, associate vice president for Finance and Administration. "He brings a national reputation as one of the top leaders in the procurement of goods and services."
Before coming to Florida State, Robbins served as the director of Procurement Services at the University of Montana, where he unified and transformed its procure-to-pay organization from reactionary and tactical to having a proactive and strategic focus with a positive customer experience. Through his development of strategy, vision and the leveraging of industry-leading practices, Robbins realized nearly $4 million in savings for the University of Montana in two years.
Prior to his experience at the University of Montana, Robbins worked at Smith & Nephew Inc., a leading medical device manufacturer. There he was responsible for more than $140 million in spending as a category manager of Global Procurement.
Robbins, who served for more than 14 years as an aviation officer in the Army in a variety of leadership roles, holds a degree in computer science from the U.S. Military Academy at West Point