---
About F & A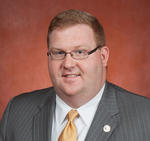 Under the direction of Vice President Kyle Clark, the division strives to provide the highest quality support services to the University.
Legislative Bill
Please return completed form to Melissa Morrison-Cueto
Strategic Vision
The purpose of the strategic planning project, which began in Spring 2001, was to chart the course for Finance and Administration (F&A) over a five-year period. In order to chart this course, however, it was necessary for Divisional staff from all levels to gain a clear perspective of the forces driving demand for F&A services now and in the future. In turn, this perspective makes it possible to formulate goals, plans, and activities that will bring F&A closer to its mission, and thus enhance its value and contributions to the University.
Take the time to view the entire Strategic Plan and see what is in store for Florida State University in the next five years.
Florida State / VPFA
Finance and Administration
---
What To Do When You are Injured On The Job
Any injury or illness should be reported to AmeriSys at 1-800-455-2079 with the exception of First Aid accidents (injury or illness does not require medical treatment).
If an employee sustains a work-related injury or illness that requires emergency medical treatment, they should go directly to the hospital or if needed call emergency medical services by dialing 911. The supervisor or designated employer representative should immediately contact AmeriSys and provide the injured employee name, where they are going for treatment and the employee date of birth. AmeriSys will immediately contact the medical facility to initiate medical case management. AmeriSys will contact the supervisor once the emergency situation is under control. The supervisor/designated Department representative must complete an EHS 11-2 Accident Investigation Report and forward it to EH&S Insurance and Claims Manager.
If an employee is injured and requires non-urgent medical treatment, the employee must immediately report the accident to the supervisor/designated Department representative which will immediately report the claim to AmeriSys. This will initiate medical treatment. The claim will then be assigned to an AmeriSys nurse who will initiate medical case management. The EHS 11-2 Accident Investigation Report shall be completed and forwarded to the EH&S within 48 hours.
An employee who has sustained a work-related injury where no medical treatment is needed shall notify his/her supervisor/designated Department representative to complete a First Report of Injury or Illness form and a Accident Investigation Report and forward them to EH&S after completion. If no medical treatment is required DO NOT CALL AMERISYS.
FSU Policy Update
Periodically the policies that allow Florida State University to operate in a safe and efficient way are reviewed and updated. This procedure ensures that the policies remain relevant, accurate, and in line with current technologies as well as in compliance with the State of Florida and the Florida Board of Trustees rules and regulations.
Most of our policies have been updated as of January 1, 2014. There are a few remaining that will be updated in the very near future.
If you have any questions or concerns about any of our policies, please contact Melanie Welch at mwelch@admin.fsu.edu.
Redesigned Destination for OBS Services
The Office of Business Services (OBS) is pleased to announce the launch of their newly redesigned website, http://obs.fsu.edu/. OBS oversees Transportation Services, FSUCard Program, FSU Bookstore, Seminole Dining, Seminole Golf Course and Club, Student Copy/Print & Mail, Vending, Laundry, Departmental Copier Services and Postal Services. This online destination for OBS services now provides a more accessible customer experience made possible by the following features:
Design and Navigation - An engaging design that adheres to University standards while improving customer usability.
Informative - Keeps customers informed with increased content, announcements (including parking updates), and more.
Responsive - Delivers optimal viewing experience from any desktop or mobile device.
Please note that some links have changed therefore, bookmarks and saved links will need to be updated. For questions or assistance, email obs@fsu.edu or call (850) 644-3279